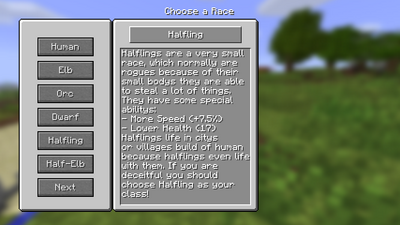 There are currently 6 races in Fantasy of Minecraft. These races are:
Human
Dwarf
Elb
Half-Elb
Orc
Halfling
Each race has advantages and disadvantages, except humans, which are neutral. Here is an explanation of each race and their differences:
Human
Humans are the most common race, and live in villages or cities. They are however, very adaptable, so they can live pretty much anywhere.
-Humans have no positive or negative effects
Dwarf
Dwarves are an ancient race, and love to battle and are always seeking more glory. They live in underground cities.
- More damage (+1 per hit)
- Lower mana (-15)
Elb
Elbs are rare in this world, as they don't have as many children as other races.
- Faster movement (+15%)
- Lower health (-18)
Half-Elb
Half-Elbs are children of an Elb parent and a Human parent, or children of a Half-Elb couple.
- Faster movement (+7.5%)
- Lower health
Orcs
Orcs are a brutal and powerful race. They live in Orc tribes or villages, but some choose to move to Human Cities.
- More damage (+2)
- More health (+25)
- Lower mana (-10)
- Slower movement (-15%)
Halfling
Halflings are a small race, and because of this they find it easy to steal things undetected. They are very sneaky and deceitful, and often choose to be rogues. They often live in Human cities or villages, and sometimes even live with Humans.
- Faster movement (+7.5%)
- Lower health (-17)
Here's a list of planned races to be added:
Gnomes
Devil-Breed
Angel-Breed