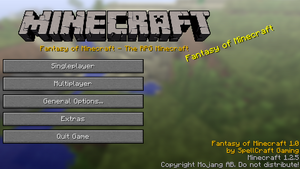 Welcome to the Fantasy Of Minecraft Wiki
Edit
This is the wiki for the Minecraft mod "Fantasy of Minecraft". It is here to help you out if you need any information on any features that have been added with this mod.
The current version of Fantasy of Minecraft is 1.0.1 for Minecraft 1.2.5.
Or if you want it without any advertisement: FoM 1.0.1
Or if you want an older version you can find it under the Download section here: FoM Thread
Latest Changelog 1.0.1 (Full Changelog)
More language support
Bronze-crafting bug fix (May not work with bronze that has been smelted before the patch until you stack it with one that has been smelted after the patch)
Added new block: repairer , does some epic stuff. Go check it out!
Added repairtools for the repairer
Added all patterns to craft things
Removed the ability to craft leather armor on the workbench... so pretty much a new, harder way to craft your armor!
Hammer and nail are getting damage if used for crafting
Code improvements
Just Getting Started
Edit
Since this wiki is new, we appreciate any help you can give. And the creepers know when you troll this page.
If you are new to this mod you should go and check the Some basic tips out.
Here are a few useful pages that might interest you: Useful Pages
Here is going to be a list of all the features in the game in short: Fantasy of Minecraft A-Z
Latest activity
Edit